Earning More AVAX Through Staking.
By participating in the delegated Proof-of-Stake consensus protocol, you can receive around 8% in staking rewards through the official Avalanche Wallet. 
Introduction
Avalanche is a fast, scalable blockchain-based network with low transaction fees which has a multi-billion dollar market cap.
The Avalanche Network is secured by AVAX tokens through a delegated Proof-of-Stake protocol.
Staking is an important part of verifying and validating transactions to keep the network up and running. By providing extra tokens as staking rewards, the Avalanche Network incentivizes investors to stake their crypto.
If you have 25 AVAX tokens sitting in your wallet, you can choose to delegate them to a validator for anywhere from a week to a year. Depending on how much is staked by that validator, you can earn rewards of over 9 percent.
As long as the validator remains online and working for more than 80 percent of the staking period, you will receive rewards at the end of the staking period. This may be a safer alternative than using a crypto bank or a DeFi application where there is more risk of losing all your AVAX.
Through the Avalanche wallet, you can earn anywhere between 9 and 11 percent APY, though you will earn substantially less for shorter staking periods. While Binance offers better returns (up to 20 percent), the process requires you to give up the keys to your crypto.
Key Takeaways
Staking requires you to move at least 25 AVAX onto the P-Chain

Picking the optimal validator requires research to determine which nodes are trustworthy, efficient and offer additional rewards

While staking is available through Binance, staking on the Avalanche Wallet allows you to retain custody of your crypto
Learning to stake AVAX should take you less than 15 minutes.
Staking on Avalanche might be slightly more confusing than on other blockchains. For one, there are three separate blockchains within the Avalanche network:
C-Chain: For processing smart contracts and assets
X-Chain: For exchanging and sending AVAX
P-Chain: For staking and validating transactions
This guide will go through setting up the official Avalanche Wallet, moving your AVAX onto the P-Chain and finding the right validator to stake with.
Again, this should all take about 10 to 15 minutes.
An image search for "avalanche wallet" leads straight to this unofficial Colorado Avalanche wallet on eBay: (don't let it distract you)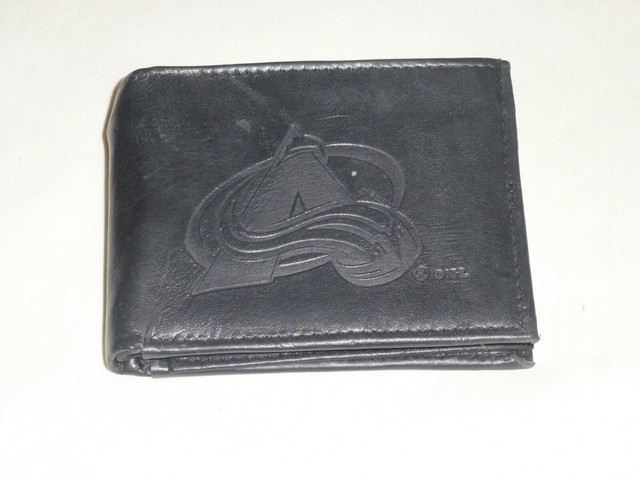 Step 1
Get some AVAX if you don't already hold any.
Buy it or exchange another token for AVAX.
To begin staking, you'll need to transfer at least 25 AVAX onto the official Avalanche Wallet.
This might require you opening up a new account if you bought your tokens on an exchange and intend to stake them. Or if you already have your account set up log in to it.
AVAX is moved into the wallet through the X-Chain or the C-Chain.
FYI
I used EdgeApp wallet and needed to use the C-Chain to move my funds over to the official Avalanche wallet.  I used customer support to find this out.
The transfer on Avalanche was the fastest I've seen in years of using crypto. We're talking about one second or so. Speedy to say the least.
I then needed to do a "Cross-chain Transfer" (left nav) those funds from C-Chain ——> P-Chain.
Step 2
Next, you'll need to move your funds onto the P-Chain. 
On the left hand side of the wallet, click "Earn" in the menu. You can then select "Cross Chain Transfer" and move your funds onto the P-Chain.
This will cost approximately 0.001 AVAX in transaction fees.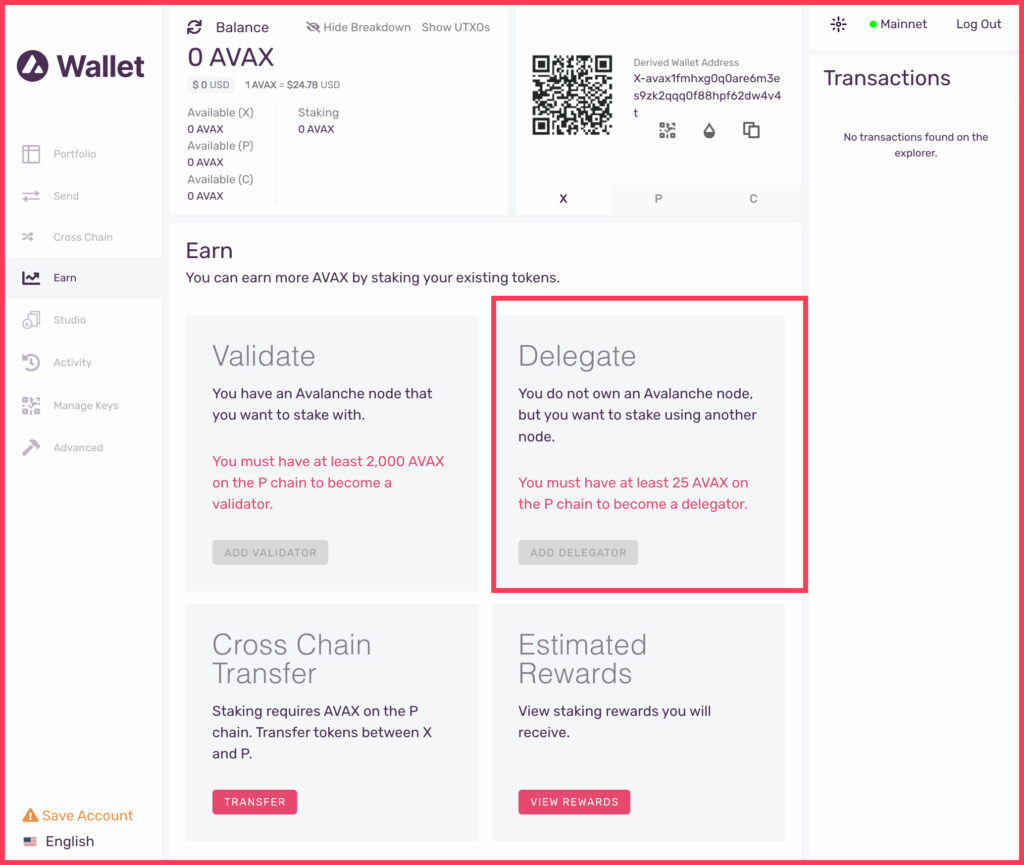 Step 4
Choose a Validator
On the "Earn" page, you are now able to click "Add Delegator". You will be provided with a list of validator nodes ordered by the amount of AVAX tokens each node holds.
There are a few things to take into account when choosing a validator:
Staking period

: This is how long you need to delegate your tokens for. It could be as short as a week or it may involve locking them in for a whole year. The longer you stake, the more rewards you are eligible to earn.

Uptime:

This is how long the validator node remains active on the network. They must be running for more than 80 percent of the total staking period to earn rewards. Make sure to look for validators that have higher uptimes for safer staking.

Filter by Uptime. We used >96%
Fees:

If the validator is fairly new with almost no fees, it is probably too good to be true. Similarly, if there are small fees associated with a particular validator you should understand how much in total they are collecting and consider if it is worth it given the size of the pool.

You can also filter by fees. Try something like <3%
Technical profile:

In order to maintain uptime, you should be confident in the validators hardware and ability to fix problems or set up upgrades to maintain their uptime.

Trust and track record:

Is the validator endorsed or audited? Do they have a history of high uptime and rewards? The better the track record, the more likely you can trust the validator.
Subnets and extra rewards:

By providing services for other subnets, some nodes are able to increase the amount of rewards they earn. If two pools look similar in terms of quality, extra rewards can be a helpful differentiator.
While it's impossible to predict how much staking rewards you'll yield with certainty, there are ways to get a good estimate.
Once you've chosen a validator you can click select and you're all set!
Staking on Binance
Going through this popular custodial crypto exchange makes it very easy to stake AVAX.
Click into Binance Earn and type A-V-A-X into the search bar.
It will provide you a list of AVAX pools with different stake periods as well as their projected yield.
By delegating to Binance, you can earn more than you would through the native Avalanche Wallet. However, it works to further centralise governance within the Avalanche Network.
Remember, when you delegate AVAX tokens to the validator, you also allow them to vote on governance issues using that stake.
Conclusion
Staking AVAX through the official Avalanche Wallet is the easiest way to get started with earning rewards. Make sure to spend some time researching validators, especially if you intend to lock-in and stake with a substantial amount of AVAX. With prices hovering around $24, you still need to put in a total of $600 worth of AVAX to get started.
You can earn more than 10 percent in rewards if your tokens are locked in for a year.
If you choose to take an extra risk, you can follow the same process through Coinbase (though you lose custody of your crypto) and receive up to 20 percent in rewards.
Avalanche Wallet
Avalanche Wallet is a simple, secure, non-custodial wallet for storing Avalanche assets.
Why you can trust us
We used this exact step-by-step process to transfer and stake some AVAX in June 2022.