Top Pick —
Our Most Recommended Non-Custodial Crypto Wallet for 2023 is Exodus.
(Once again)
Exodus a HOT software wallet (as oposed to COLD) and it's one of the most popular and highest rated crypto wallets.
Since its launch (in 2016) Exodus has been continually updated and improved. 
This has been our Top Pick for a few years in a row —  in this review we'll go through the reasons why in detail.
Manage and Exchange 230+ Cryptos and NFTs on your Web Browser, Mobile, Desktop, and Hardware Wallets.
Who is Exodus ideally suited for?
Exodus wallet is a great choice if you're just getting started in crypto, but you won't be a beginner for long.
It's just nice to know that you won't easily outgrow it.
This is a key point because once you get a crypto wallet set up, it can take a lot of time energy and transaction fees should you decide to move any of your digital assets over to a different software wallet (which at some point you likely will).
Exodus offers a safe and easy way for you to gain complete control and ownership of your crypto. This is another way of saying self-custody.
Whether you're planning to diversify your crypto portfolio, stake some of your crypto to earn, or if you want to move some of it into cold storage for maximum security over the long term — Exodus has got you covered.
Is Exodus wallet the best non-custodial cryptocurrency wallet available?
We think that it is.
With close to 100K reviews and an average rating of 4.6 /5 on the Apple App Store and 4.4 /5 on Google Play, we aren't the only ones who've chosen it.
In this review, we'll go through everything you need to know about the Exodus wallet — from their reputation, the benefits of self-custody, the key features and how to use the in-wallet apps. 
We'll also share some pro tips for storing your crypto assets safely for the long term. (HODL)
Key Takeaways
Exodus is a self-custody (non-custodial) crypto wallet. This means that only you own the crypto stored in it because you hold your Private Keys – unlike centralized crypto exchanges or crypto banks.

Exodus provides ease of use both in set up and for day-to-day crypto transactions.

Exodus supports 230+ cryptocurrencies (and is constantly increasing).

By integrating with Trezor hardware wallets, Exodus lets you store crypto offline in cold storage (for maximum security). 

Download Exodus as a Desktop and/or Mobile app.

Exodus now offers Multichain Web3 access.

Exodus is one of the best looking crypto software wallets available.
The Benefits of Self-custody and Privacy
What does "custodial" mean and why should you care?
It all comes down to this:
If it's your crypto, then you and only you are the one in charge of it. You can send or spend it at will. It can't be confiscated or locked. Simply put, you are the custodian.
In crypto, this explanation is almost universally followed or preceded by:
Not Your Keys—
Not Your Coins.
Look, if you want to store all your Bitcoin on the same centralized crypto exchange where you bought it, that's probably fine. It should be OK if you use a reputable one like Coinbase, Kraken or Newton. It could go sideways, if you chose an FTX, Celsius or Gemini however.
But just so you know, your exchange will be the custodian of your crypto.
They will hold it for you and technically they can make decisions that affect you – like whether to freeze your account because you donated to the wrong political cause or party. Or in the unlikely worst case scenario maybe  they'll go bankrupt and take all the funds with them into Chapter 11 (like Celsius).
This does happen. It's not even all that uncommon.
Of course now days these scenarios are 100% avoidable by using a private self-custody wallet… like you guessed it: Exodus.
Private wallets do not require KYC registration (Know Your Customer) and they do not ask for, nor keep, any information on Exodus users. They don't need your phone number, credit card or drivers licence.
The reason why centralized crypto exchanges require KYC, on the other hand, is because they're dealing with bank transfers and fiat currency. All of which is subject to anti-money laundering laws (AML), fraud prevention and other regulations depending on where you're located.
Important note:
Being responsible for your own Private Keys means that you must make absolutely sure that you safely backup your Recovery Phrase. Do not ever share this with anyone. Your keywords in the correct order will be the only way to recover your wallet and funds if you ever lose your device. But anyone who has it can also access your funds. 
It's great power with great responsibility.
Trezor Cold Storage Integration 
Cold storage is the most secure way to store crypto. A cold wallet means you are using a physical device that is disconnected from the internet when not in use. It's usually connected by USB key and requires a PIN to unlock and use. 
Trezor and Ledger are the two best cold wallets (hardware) but only Trezor integrates with Exodus.

Should you use the Trezor + Exodus combination?
It all depends on what you plan to do with your assets, how much you own, and how they are stored currently… but the answer is very often yes.
Moving some (or most) of your crypto onto a hardware wallet allows you to store it safely and keep it offline. This is widely considered a best practice, especially for storing crypto for the long term. 
Is there really any reason to have your entire crypto portfolio sitting on your iPhone? 
No. Probably certainly not. 
Bottom line:
The Exodus desktop app with the Trezor integration makes perfect sense for long-term HODL mode. You can also hide your cold storage wallet from the default view in Exodus.
Always use official links, secure sites, and buy anything crypto related directly from official sources (like Trezor.io)
Related:
Here's an in-depth look at How to Store Your Crypto Securely.
Exodus
Exodus lets you do everything that you're likely to want with your crypto. It's non-custodial, private, secure, very user-friendly, and best of all… it's free.
A recent update now allows you to access Web3 apps.
Exodus has cold storage covered by partnering with Trezor.
For most people this is the one crypto wallet they can use both day-to-day, and for secure, long-term HODLing.
Exodus Mobile and Desktop Wallets
Choose to download Exodus as either a Desktop (Mac, Windows, or Linux) or Mobile wallet (iOS or Android).
You can also use both of them together — your accounts and balances will be automatically synched.
The Desktop wallet has the advantage of a larger screen and you can choose to leave it in your home office, unlike your mobile phone.
The Mobile wallet is great because it offers convenience. You can check on your portfolio, exchange cryptos within the mobile app, and or use it to send/receive crypto easily and quickly via QR code.
Pro Tip:
You could set up a separate phone or laptop specifically for crypto — it doesn't ever leave your house and assuming that you keep it offline when not in use, it's another way to implement cold storage.
🤫
Getting Started with Exodus Wallet
One thing Exodus does really well is onboarding new users.
Once you've downloaded the desktop or mobile app, Exodus walks you through a simple step-by-step onboarding guide. It's three steps to explain the main things you need to know (Receiving, Sending and Exchanging your crypto).
Here's what getting started looks like on the mobile app: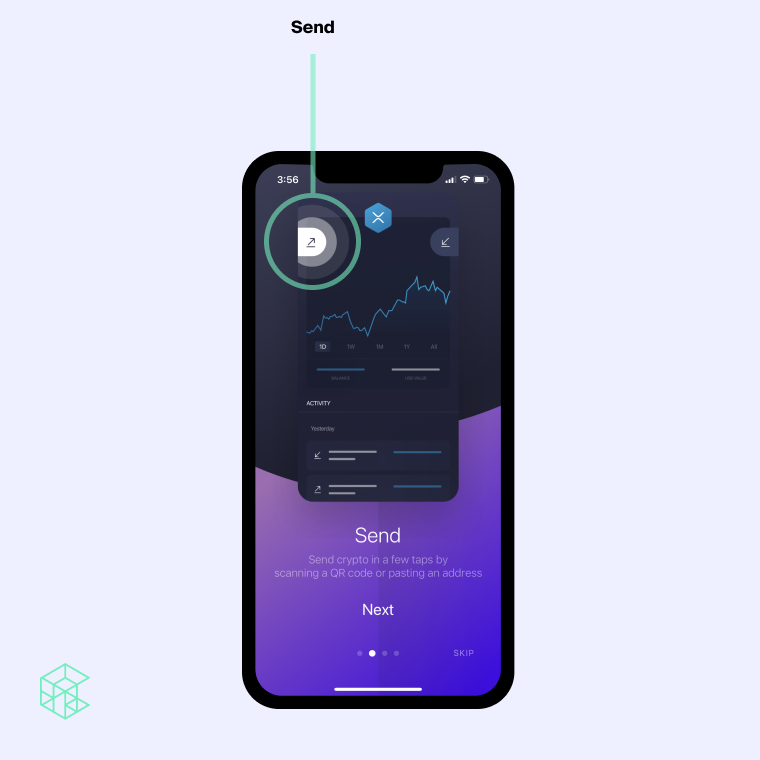 1  Receive crypto either by transferring it to your Exodus wallet  from your exchange wallet (eg. Coinbase or Binance) or get someone else to send some to you.
2  Send your crypto to someone else. You just need their wallet address.
3  Exchange one crypto for another within your wallet
Exodus Mobile Wallet
As mentioned, the main reason to use the Exodus mobile wallet is so that you can access your crypto from anywhere (with an internet connection).
The key features here are Send and Receive, which are easily done by scanning a QR code or copying and pasting the wallet address. Exchanging cryptos is also straightforward on the mobile app.
Setting up Multiple Portfolios in Exodus.

You can set up and use multiple portfolios in Exodus. You access each of them from the same wallet login, and can toggle between them.
Why set up different portfolios?
Ok here's an example: You could use your main wallet portfolio for day to day use and hold a small balance of BTC and ETH to use for transactions or small exchanges.  A 2nd portfolio might hold some crypto you decide to set aside for your kids college fund.
Then a 3rd portfolio could be connected to your Trezor, and have all your ADA and ATOM staked and held safely offline.
Multi-chain Web3 Access
A recent update now allows you to access Ethereum and Solana Web3 apps from within your Exodus wallet.
You can either use the native in-wallet apps or install the Exodus browser extension on Brave or Chrome. We like the Brave browser if you're looking for a recommendation. The Web3 connection lets you do things like: mint, buy, and sell NFTs, access DeFi apps, and manage custom tokens across Ethereum and Solana networks.
Buying Crypto in Exodus
Exodus allows you to buy crypto with your credit/debit card, bank account, and Apple Pay.
They feature USD, EUR and GDP more prominently but scrolling through the complete list offers you most major currencies including CDN and AUD.
This is completed via integration with payment services: MoonPay and/or  Ramp Network. Both of these are custodial services and require ID verification.
Note: Every crypto that Exodus supports may not be available to buy directly. You might have to buy another crypto like ETH and then exchange it within the wallet app if you are looking for something that's not on the official list .
Also, if you already have an FTX account, you can buy crypto there and connect your FTX account to your Exodus wallet.
Of course anyone (including you) can send crypto to your Exodus wallet as long as you provide them the receiving address.
Exodus Supported Cryptos
The number of supported cryptocurrencies keeps going up every time we update this review.
230+ Cryptos
are Supported
by Exodus

— August 2022
Exodus offers most of the top cryptocurrencies that you're likely to want. Sure, they might not support an obscure GameFi token or the latest DOGE inspired meme, but for most people, the list of top coins, altcoins, or digital currencies covers their bases.
Check the latest: Exodus complete list of supported coins & altcoins.
Exchanging Cryptos within the Exodus Wallet
Exchanging one crypto for another within Exodus is easy, but you should know that even though Exodus has a built in exchange feature, it is not a comprehensive trading platform.
They offer an integration with FTX exchange for all of that. We'll get to that soon enough.
Here's the process for exchanging cryptos within your Exodus wallet:
Choose the Exchange icon from the bottom menu

Select the crypto you want to exchange from

Select the crypto you want to exchange it for

Enter the amounts

Confirm the transaction

Receive the new crypto!
Transactions are recorded in your wallet history if you need to go back and review, or export for tax purposes.
Exchanges usually complete almost instantly but occasionally it can take a few minutes, depending on network traffic and congestion. 
Remember within Exodus you'll always control your Private Keys and retain full ownership of your digital assets, unlike centralized or custodial exchanges. The coins you are exchanging never leave your possession and are always within your wallet.
Note:
Crypto transactions are not reversible and can't be undone. You can always redo and reverse it within your own wallet, but it will simply be a new transaction on the blockchain.
Exodus In-wallet Apps
The Exodus wallet is an app (a software or hot wallet), it's also a platform that integrates with other apps that have been developed in partnership with with 3rd parties.
The main Exodus wallet does a few thing natively:
Wallet – holds different cryptos and allows you to spend or send them
Exchange – trade one crypto for another within your wallet
Portfolios – Manage and review all the cryptos you hold in your wallet
Compound Finance  – Lets you earn interest on some of your crypto
Rewards – Earn rewards by staking some of your cryptos
Exodus also offers apps that connect your wallet with services provided via 3rd parties.
Why does Exodus need to rely on 3rd parties to integrate certain products, services or features?
A few reasons. First, Exodus is not a bank and they aren't licensed to deal with or accept fiat money from banks in different parts of the world. Instead they allow you to buy crypto with your credit/debit card, bank account, and Apple Pay.
Another thing, Exodus is not a comprehensive trading platform. You can do simple exchanges within your wallet at the market rate but it's not comprehensive.
Here's a list of the 3rd party apps:
Connect

– Connect to Web3 apps.

NFTs

– Store your digital art in your Exodus wallet.

Lightning

– Fast, cheap BTC transactions on the Lightning Network.

Buy

– Connect to a verified payment source to buy crypto with fiat.

Shares

– Exodus is publicly traded. Create an investor profile to buy shares.
Staking within Exodus Wallet
Exodus wallet currently allows you to stake seven Proof-of-Stake (PoS) cryptos safely and easily. Each crypto offers a different yield and pays out on its own schedule. Some you have to actively claim rewards as they accumulate, while other are automatically added to your staked balance.
To stake any of the available cryptos, open the individual coin's wallet and tap the Rewards icon (medal) in the top right corner.
Which coins are worth staking?
Well, ATOM is looking pretty good. But if you want to learn all about ATOM before buying and staking it, check out our comprehensive overview:
Cosmos 101: Everything you ever wanted to know about ATOM  

Here's the list of cryptos you can stake within Exodus, ordered from highest to lowest Annual Percentage Yields (APY):
Our Picks
Crypto
APY
CoinGecko
Ontology
ONT
21%

Charts

Cosmos Hub
ATOM
18%

Charts

Algorand
ALGO
8%

Charts

Tezos
XTZ
5.6%

Charts

Solana
SOL
5.25%

Charts

Cardano
ADA
5%

Charts

VeChain
VET
1.25%

Charts

The Annual Percentage Yields listed here could change by the time you're reading this. 
Earning Interest with Compound Finance
Another way to earn some passive income in Exodus. Compound Finance is a protocol built on Ethereum that allows you to lend your Ethereum to a pool. Once you do, you accrue interest every time an Ethereum block is mined. 
You are free to withdraw your assets at any time.
This isn't quite the same as the above staking crypto, but is another easy way Exodus allows you to earn passive income.
Using the FTX Exchange
FTX is one of the largest crypto exchanges in the world. FTX was founded by Sam Bankman-Fried and Gary Wang in 2019. It is currently based in the Bahamas.
FTX is a custodial trading platform for cryptocurrencies offering products like derivatives, options, and leveraged tokens. It also supports more than 300 cryptocurrencies.
Basically FTX is a complete trading platform that you sign up for separately (with KYC verification) and can access from within your Exodus wallet.
Why use FTX instead of just exchanging cryptos within Exodus?
Some of the reasons would be: 
Near-instant exchanges

Exchange maximums as high as $10,000 
FTX also offers 2FA (two-factor authentication) on withdrawals.
Note: FTX is not available everywhere. For example Ontario, Canada is not on the list.
Understanding Fees
Exodus is free to download and use.
Exodus doesn't charge you fees to send, receive or store crypto. 
So how does Exodus make money then?
They make money on the spread — whenever you exchange one crypto for another, Exodus buys it for slightly less than they sell it to you (amounts vary depending on the pair). Essentially acting as a retailer.
Exodus is not the cheapest way to trade cryptos but it's in line with the competition and not considered to be expensive, in our opinion.
Exodus Support
Their customer service is great.
👍
Reviews of Exodus are overwhelmingly positive on the Apple App Store and Google Play — 75K total rating with an average of 4.6 stars. Granted that is directed at the wallet overall but you can be sure that if customer service was poor, it would make its way into the rating and reviews.
Personal experience:
I contacted Exodus to inquire about Polygon (ETH vs MATIC) and they got back to me quickly with a more comprehensive answer than I was expecting.
– Mark
You can contact wallet support by visiting Exodus.com and send a message, or start off with their Knowledge Base and FAQs.
There's no phone number for Exodus. If you see one – do not call it.
Once again:
If you ever have to deal with a customer support rep on any app, wallet or site, you NEVER ever give out your password or worse yet your Recovery or Seed Phase. If you do, you will certainly lose everything. Only a person trying to steal your crypto would ever ask for this.
Frequently Asked Questions
Is Exodus wallet safe?
Yes
It's as safe as anything else. They've never been hacked or lost customer funds or account info (they don't have account info to begin with).
Exodus is updated regularly, so make sure you keep your wallet up-to-date. Use the official links when you do.
Remember that your crypto (Exodus or any self-custody wallet) is only ever as safe as the Recovery or Backup Phrase you've got written down and stored. As long as you have this somewhere safe and can access it if you ever need to recover your wallet, you'll be covered.
Is Exodus a custodial wallet?
No. Exodus never has access to your your keys so they are a not a custodial wallet.  They're quite literally the opposite – Exodus is a non-custodial wallet, meaning that not even the developers of the wallet can access you keys, so they cannot block or interfere with your crypto in any way. And if anything were to ever go wrong with Exodus, you can always use your private keys to move to another compatible wallet.
Is Exodus a non-custodial wallet?
Yes. Exodus is a non-custodial wallet as they never have access to your keys.  Not even the developers of the wallet can access you keys, meaning that they cannot block or interfere with your crypto in any way. And if anything were to ever go wrong with Exodus, you can always use your private keys to move to another compatible wallet.
Does Exodus require KYC?
No. Exodus is a non-custodial wallet so they don't require your personal info for anything.
If you buy crypto with fiat you will have to go through KYC registration either within Exodus or when setting up an account on a centralized (custodial) crypto exchange.
Is Exodus open source?
Only partially.  Some components of Exodus Wallet are open source and are shared on Github under the official company name Exodus Movement.  However, other components are not open source, so Exodus cannot really be considered open source software.
Is Exodus a cold wallet?
No. Exodus is actually a hot wallet but does offer cold wallet integrations such as with Trezor.  This can give you the best of both worlds, with the increased security of keeping your funds in a cold wallet while also having some available in your hot wallet to trade or use as needed.
Who started Exodus wallet?
Exodus was founded by JP Richardson and Daniel Castagnoli in 2015.  JP is known as the technical leader while Daniel drives the design and user experience.
Is the Coinbase wallet just as good as Exodus?
Yes, probably. Coinbase has been in crypto for awhile and is one of the more trusted exchanges. We prefer Exodus, but the Coinbase private wallet is certainly a reasonable competitor.
Conclusion
Here's 10 things that summarize what we like about Exodus:
Non-custodial

Trezor Integration 

Exchange Cryptos directly within Exodus

Stake and Earn  

Synch Desktop and Mobile wallets

Multichain Web3 access

230+ Cryptos supported 

Buy Crypto within Exodus via FTX Exchange

Great Customer Support

Nice looking
Nice Design
Is Exodus the most beautiful thing in the entire App Store?
Who's to say… but check out their updated logo and a few of brand standards if you're into that kinda thing.
Read: Exodus looks to the future with logo rebrand
Or watch this and see for yourself what the user interface looks like: