Which is the best platform to stake ETH?
Lido, Coinbase, Crypto.com or Uphold?
Before we compare platforms for  staking Ethereum, let's quickly talk about The Merge.
You may recall that back in December 2020 The Beacon Chain was released as an upgrade to the Ethereum network. And with this release came the possibility of  staking on Ethereum. 
Since its launch, the Beacon Chain has existed as a separate chain from the Ethereum Mainnet (or the "execution layer").  The plan is to swap out the current Proof-of-Work algorithm with the Proof-of-Stake consensus protocol that the Beacon Chain provides.
This is what's known as The Merge.
In other words a  'merge'  of the new "consensus layer" with the existing "execution layer". 
As a result of this and in anticipation of this happening (late 2022?), ETH holders can earn from their holdings by staking them on various platforms.
In this article, we'll look at some of the best places to stake your ETH and earn (around 5% APY).
Key Takeaways
ETH staking allows ETH holders to earn passively from their ETH

ETH staking

is possible due to Proof-of-Stake consensus mechanism

ETH holders can use Staking-as-a-Service providers, Pool staking services, and

Crypto exchanges

to earn from ETH

ETH staking is offered by several crypto exchanges including: Coinbase, Crypto.com, and Uphold.

ETH staking earns around 4-5% APY
Outline:
Introduction to Proof-of-Stake

Benefits of Staking ETH 

How to Stake ETH 

Four Places to Stake ETH compared

Lido
CoinBase
Crypto.com
Uphold

Summary
A brief introduction to Staking (and Proof-of-Stake)
Staking is the process of validating transactions and adding new blocks to a specific type of blockchain called Proof-of-Stake. It's also a way to secure a Proof-of-Stake blockchain (like Ethereum).
Staking is a way for many people to earn rewards passively.
Staking is only possible because the Proof-of-Stake consensus mechanism uses collateral (ETH in this case) instead of expensive mining hardware and energy required by Proof-of-Work (Bitcoin). 
Proof-of-Stake (PoS) is the consensus mechanism that Ethereum will use after The Merge. Ethereum is moving off of proof-of-work (PoW) to proof-of-stake because it is more secure, less energy-intensive, and better for implementing new scaling solutions. While it has always been the plan to transition to proof-of-stake, it is also more complex than proof-of-work, and refining the mechanism has taken years of research and development. The challenge now is to implement proof-of-stake on Ethereum Mainnet. This process is called "The Merge".
Benefits of Staking ETH
Earn rewards
Staking rewards are a major reason why ETH holders stake their ETH. ETH staking rewards are given based on how much ETH is validated and the rewards the network is offering at the time. 
Staking offers one of the best ways to earn passively from ETH.
Better network security
ETH staking is a great way to secure the Ethereum network. The more validators process transactions and check other validators' work the easier it is to deal with malicious actors and modified blocks efficiently.
More sustainable
Ethereum is moving to a Proof-of-stake consensus mechanism which is considered to be more environmentally friendly than Proof-of-work. Proof-of-stake doesn't require the expensive and energy-intensive mining hardware competing to mine ETH.
FAQ
What is an APY and how is it calculated?
Annual Percentage Yield (APY) refers to a percentage rate reflecting the total amount of rewards projected to be earned over an annual period.
APY is based on the then-current Rewards Rate compounding at set intervals for a 365-day period.
It's also called APR.
Types of Staking Services: 
Staking services are provided by third parties. It's important to understand  how they work and how secure they are before connecting your wallet to any of them.
There are 3 different types of staking services;
Custodial

A custodial ETH staking service manages the entire ETH staking process on your behalf. However, it holds your private keys, meaning it has access to your funds.
Custodial ETH staking services operate in centralized fashion posing a few risks including possibility of single point of failure attacks.
Semi-custodial
A semi-custodial ETH staking service does not hold your private keys. However, it will tie you to it either through a web portal interface or other tools.
Semi-custodial ETH staking services tend to keep everything but your crypto to themselves. Some do hold your private keys.
Non-custodial
A non-custodial ETH staking service allows you to earn from ETH staking without taking control of your private keys. You retain full control and rights of ownership.
Not everyone wants this extra assurance because it comes with extra responsibility. If you trust a central exchange with your crypto, just remember that they will act on behalf of all their customers, their shareholders and their own interests.
However in our opinion non-custodial is recommended. By allowing you to hold on to your private keys, non-custodial ETH staking services leave the security of your ETH in your hands (wallet). They're likely to be safer there as long as you've got your passwords and recovery seed backed up properly.
Choosing a Staking Platform for ETH
You have the choices as listed above:
Crypto Exchanges
As a beginner, a custodial crypto exchange, especially one that you bought your ETH or BTC from, can be a great place to start. 
Crypto exchanges offer an easier way into ETH staking due to ease of use and convenience. Many staking crypto exchanges are also highly secure.
Custodial exchanges also manage the entire ETH staking process on users' behalf. Different exchanges charge different rates and offer different APYs.
Not all crypto exchanges allow ETH staking.
Two of the most popular crypto exchanges that do  include Coinbase and Crypto.com.
Staking as a Service
Using staking as a service is another way to earn from ETH staking.  Staking as a service are firms or platforms that help you stake ETH by handling the technical aspects of the process but for a fee.
Using staking as a service for ETH staking, however, requires great trust in the provider. Not all platforms are reliable, which is why a reputable eth staking crypto exchange can be a better option for ETH staking.
Pool Staking Services
Staking pools are just as good as crypto exchanges for ETH staking. The pools allow ETH holders with smaller amounts of ETH to pool their resources to reach the required 32ETH and participate in ETH staking.
Pooled staking is not native to the Ethereum blockchain. The service is provided by third parties, and therefore carries a few risks. 
Lido is a popular staking platform providing pool staking service for ETH and other currencies including Solana, Polygon, Polkadot and Kusama.
Running a Validator
Finally, you could run an Ethereum validator, the hardware used to validate transactions. Running an ETHer validator is not for beginners (or most people) due to its demands.
Besides investing in top-of-the-line ETH validating hardware and software, you'll need some technical expertise to smoothly run the operation.
You'd also need 32ETH, which is not realistic for everyone. 
Staking platforms compared: Lido, Coinbase, Crypto.com and Uphold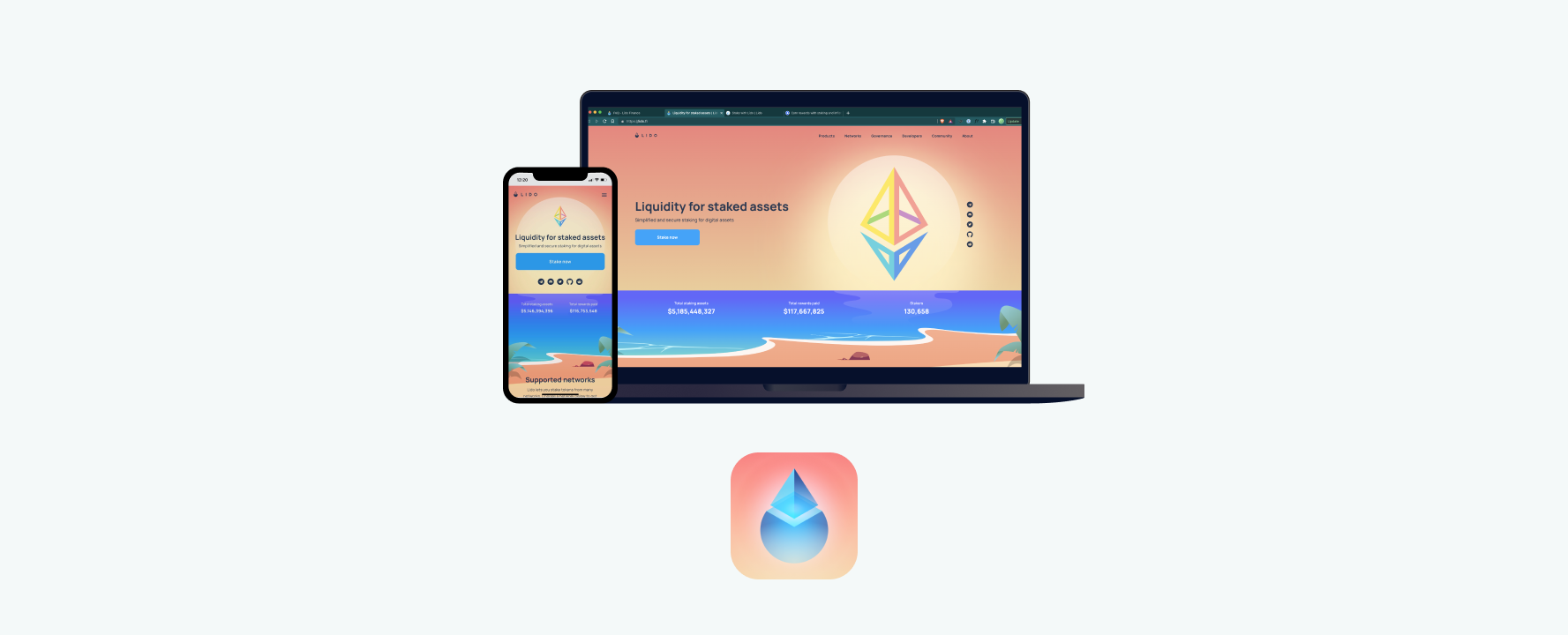 1
Lido
Launched in 2020, the platform is non-custodial, easy-to-use, and allows users to stake any amount of ETH and earn daily rewards. 
Lido is relatively easy to set up and use
Lido does not lock up users' funds. Users can unstake their coins at any time and use or trade them.
When staking with Lido users receive staked ETH (stETH), which represents the value of their initial deposit plus daily staking rewards. Staked ETH can be used like regular ETH to earn yields and lending rewards.
Lido operates as a DAO. 
The Lido DAO is a community of developers that builds the tools and services needed to stake Ethereum. The Lido DAO members govern the lido protocol to ensure its constant stability and growth.
Lido features a governance token listed with the ticker LDO. The token allows holders to participate in community voting and make decisions about the platform's future.
Besides Ethereum, Lido also provides staking services for Polygon, Kusama, and Solana blockchain. 
Staking ETH can earn 4.00% APR. 
Pros
       

No minimum requirement for staking ETH

       

Users can unstake their ETH at any time
Cons
Smart contract risks

Fairly new in the market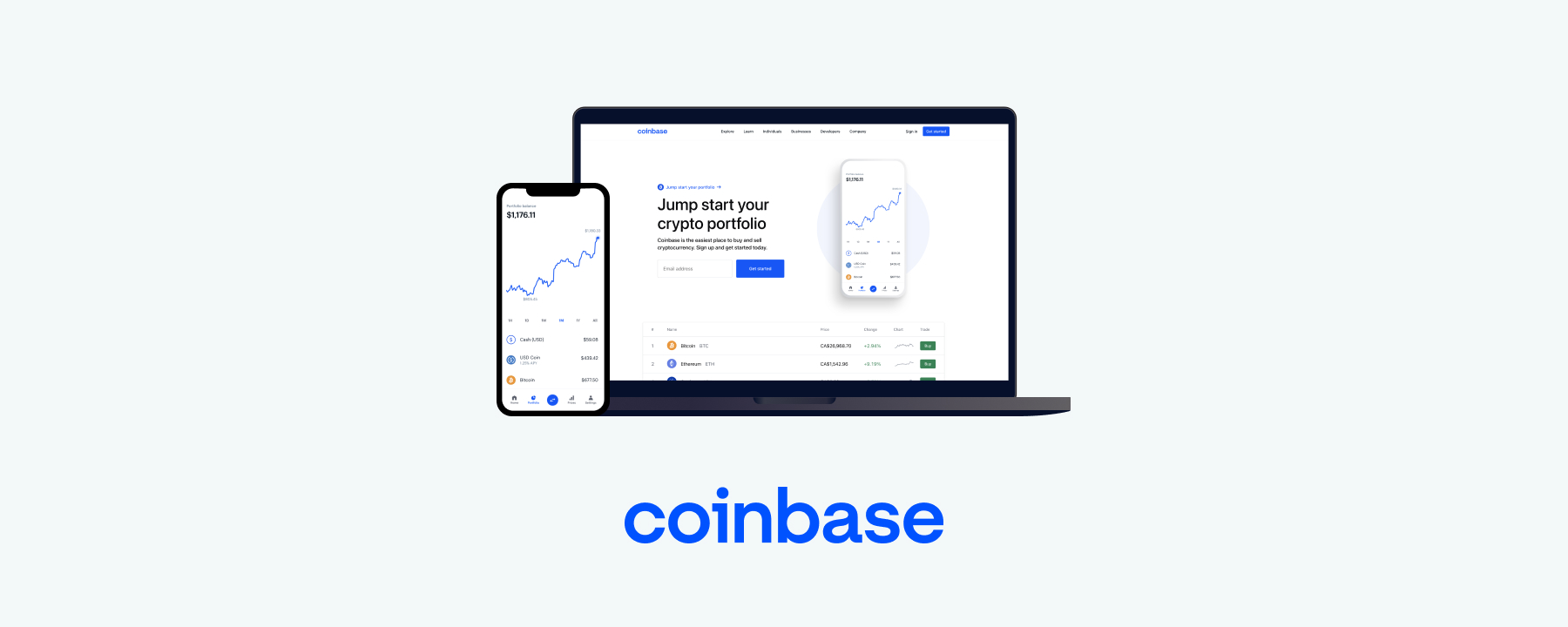 2
Coinbase
Founded in 2012, Coinbase is a regulated crypto exchange offering custodial crypto staking services.
Based in San Francisco, California, Coinbase allows the staking of a variety of crypto coins including ALGO, XTZ, ATOM, and ETH. 
As a custodial crypto staking service, Coinbase holds on to your private keys, therefore is responsible for safeguarding your funds and retains the control over access to them. Unlike Lido which is non-custodial.
The Coinbase platform has a few requirements before you can start earning from your ETH.
You'll need a verified user account. 
Coinbase doesn't have a minimum ETH staking requirement; you can stake as much or as little as you want.
Before you start earning from ETH staking you'll have to join a waitlist. This is due to high demand. The wait time can vary, but the sooner you join the waitlist the sooner you can begin earning. 
When you stake your ETH on Coinbase, it converts to "ETH2".
The price of ETH2 is identical to ETH. Once Ethereum fully upgrades to Ethereum 2.0 both ETH and ETH2 will merge into one token. 
Your staked ETH will be locked up on the Ethereum protocol until phase 1.5 of the Ethereum network upgrade is complete.
Users from several countries including the US (except New York and Hawaii) can participate in Ethereum staking. 
While the fees on Coinbase are high compared to other platforms stakers can earn 3.68% APY. 
Pros
Easy to use 

No minimum requirement

Available in several countries including the US
Cons
Custodial (KYC required)

Not the highest APY available

Waitlist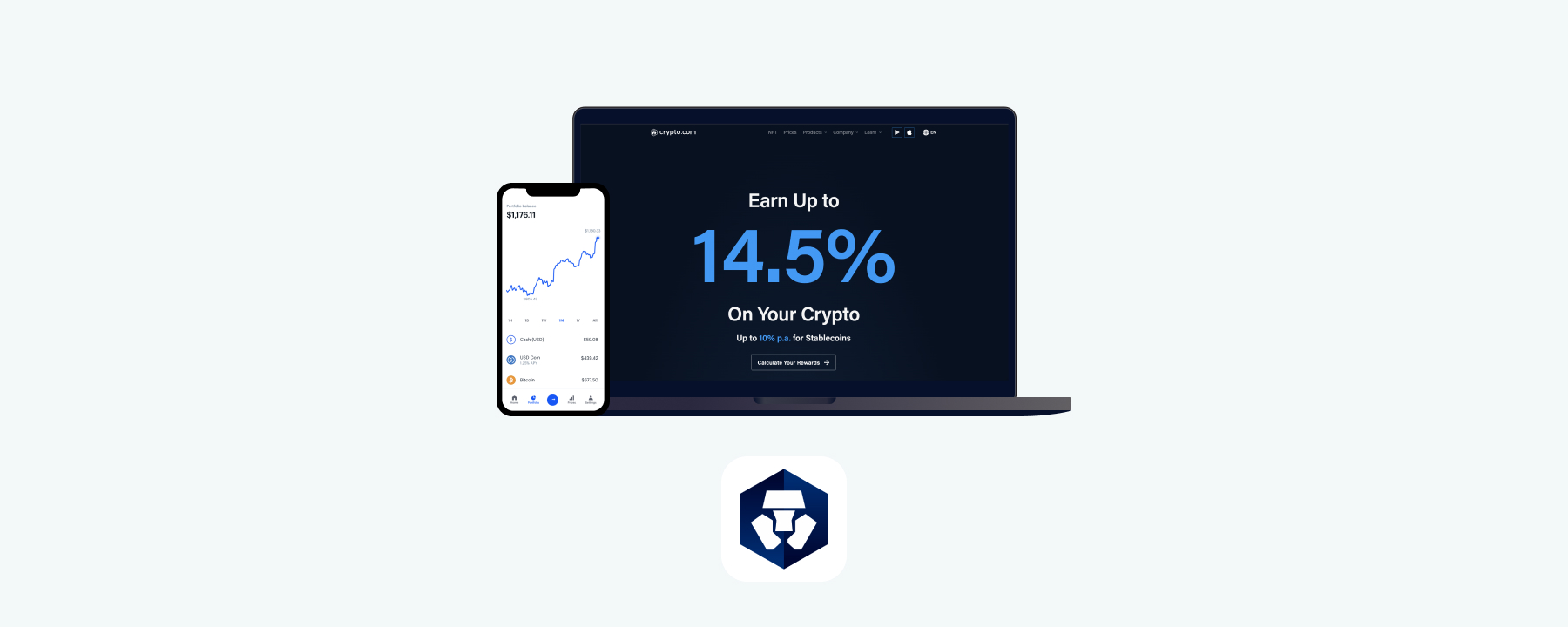 3
Crypto.com
Founded in 2016, Crypto.com is a reputable crypto platform offering a variety of crypto services including trading and staking. 
The platform offers non-custodial staking services, and is a great alternative to Coinbase for this reason. Especially if you already have an account.
Crypto.com allows users to earn staking rewards from over 40 supported cryptocurrencies including DOGE, SOL, BTC, and ETH. The platform also supports staking of several Stablecoins including USD Coin, TETHer, and TrueUSD.
Crypto.com offers its staking services through a feature called "Soft Staking".
Soft Staking is Crypto.com's way of offering staking services without the need of committing or locking up your crypto for long. The Soft Staking feature has to be enabled to start staking on Crypto.com.
To begin staking ETH on Crypto.com, you'll first need a Crypto.com user account to access the Soft Staking feature. It is located on the Stake & Earn page. Once on the page, select Soft Staking and toggle it on to start earning from your ETH holding. You are required to have a minimum of 0.3ETH to start earning from the platform. The platform dishes out weekly staking rewards.
Crypto.com also offers Exclusive Soft Staking Rewards, which is another form of soft staking but for its retail VIP users. Some of the benefits of Exclusive Staking Rewards include increased APR, unlimited staking balance, and no minimum threshold for Soft Staking.
Besides ETH, Crypto.com allows the staking of other cryptocurrencies including Cronos (CRO), its utility token. Staking Cronos allows holders to qualify for other benefits including earning higher interest rates and qualifying for better crypto rewards if you have a Crypto.com prepaid debit card.
Crypto.com stands out as a highly secure crypto platform available in over 90 countries worldwide, including the US (except New York).
By using Crypto.com for ETH staking you can earn 4.00% APR.
Pros
Soft staking and exclusive soft staking

0.3 ETH minimum staking requirement

Weekly crypto reward payout
Cons
Not as beginner-friendly as Coinbase

Locks up coins for staking (1 and 3 months)
3
Uphold
Launched in 2015, Uphold is a well-known crypto exchange that allows buying, selling, and trading of cryptocurrencies, national currencies, stocks, and precious metals. Uphold is based in New York, and is available in more than 180 countries.
Besides crypto trading, Uphold also offers staking services for several cryptocurrencies including ADA, XTZ, SOL, ATOM, and ETH.
Uphold allows users to begin earning from their crypto holdings in three simple steps.  Firstly, create an account. Then, choose an asset (ETH). Finally, begin earning.
The platform has a minimum requirement of the ETH you can hold before you begin staking. Your ETH will also be locked up during the staking period meaning you cannot sell or trade them. You start earning crypto rewards after a four-day preparation period.
Staking rewards are deposited weekly to stakers staking accounts. For services rendered, Uphold charges a 15% commission on all staking rewards.
Uphold's staking services come with an unstaking period that can last between 3 and 30 days, depending on the staking activities. 
By staking with Uphold you can earn 4.25% APR, the highest among our options of top ETH staking platforms.

KYC is Required
Uphold is a custodial platform based in New York. In order to stake with Uphold, you must verify your identity (KYC) and reside in a location where staking is allowed.
Read their Terms and Conditions.
Pros
Easy to use 

Weekly crypto reward payout

4.25% APR
Cons
Minimum requirement of ETH for staking (

will vary depending on the order flow)

Unstaking period
Our Picks: The Best Places to Stake ETH and Earn

Lido
Coinbase
Crypto.com
Uphold
Platform

Ease of use

★★★☆☆

★★★★★

★★★★★

★★★☆☆

APY%

4%

3.68%

4%

4.25%

Minimum required to stake?

No minimum

No minimum

0.15 ETH

Payout

Daily

Daily

Weekly

Weekly

Lock-up / unstaking period

No

No



1 or 3 month lock-ups offer higher returns

3-30 days depending on the asset

Private keys

Non-custodial

Custodial

Non-custodial (with Defi Wallet) 

Custodial
Always use the official secure links. Never click on a link in an email or SMS.
Is it worth it?
Yes it is.
Holding on to ETH and waiting for its value to appreciate seems like a good investment option and staking allows you to earn around 5% APY while the price of the asset goes up (or down).
Staking offers a great way to earn from your without having to do any work beyond the setup.
By staking ETH you'll also help secure the Ethereum blockchain.
Of course, if you plan to or need to sell or trade your ETH then staking isn't the ideal strategy.
Lido
Lido is our top pick for best ETH staking platform.
It's easy to get set up, minimal requirements, it's non-custodial and it pays around 4% APY.

Also, it's the number one staking choice for ETH with
Why we chose Lido:
Easy to use

It offers non-custodial staking services

Allows users to stake as little ETH as they wish

Does not lock up tokens

Users can unstake their ETH at any time

Staked ETH can be used like regular ETH to earn yields and lending rewards

4% APY
Final Word
ETH staking is a good way to earn passively from your ETH holdings. It also helps secure the Ethereum blockchain.
You can choose to earn from ETH staking by using a custodial crypto exchange, a staking-as-a-service provider, a pooling staking service, or by running a validator.
Lido is the most popular ETH staking platform. The platform allows you to stake as much or as little ETH as you wish. It also does not lock up staked coins.
Coinbase and Crypto.com are reputable crypto exchanges that offer staking services.  Note:

Coinbase offers custodial staking services while Crypto.com is non-custodial. 

Uphold is beginner-friendly and widely available. It operates in more than 180 countries globally. While it does have a minimum requirement for ETH staking it still stands out as a great platform to allow you to earn from your ETH holdings.